SAGWU/ONE: A CALL TO ASSEMBLE
On the White Path home
dark soil gifts our dances back.
Songs rise up like corn,
turtle shell shackles shake history.
White and purple beads weave us to remember
strength that gifts our dances back.
From our ancestors' bodies
we rise up like corn.
The White Path home
gifts back our dances.
Hope, rise up
like corn.
Come on all you Two-Spirit people. Hurry!

n Oklahoma, Stomp Dance is a central ceremonial practice for Cherokees and other Native people from the Southeastern "United States." The Stomp Dance is performed to maintain duyuktv—balance, truth, justice—a central idea to traditional Cherokee worldviews. Wilma Mankiller tells us, "There is an old Cherokee prophecy which instructs us that as long as the Cherokees continue traditional dances, the world will remain as it is, but when the dances stop, the world will come to an end" (29, 1993). This essay is modeled on a Stomp Dance, based on descriptions by Cherokee ethnomusicologist Charlotte Heth. Stomp Dances begin with a call to assemble, and so I would like to call us together, as Cherokee Two-Spirit people, to reflect on and imagine what it means to be who we are. Specifically, because of the nature of this collection, I want to call together male-embodied Cherokee Two-Spirits to think about the very important obligations we have to rebalance gender systems through working to end sexism, transphobia, and queerphobia in our communities.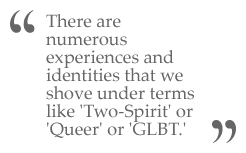 As we assemble, I know that there are non-Cherokees and non-Two-Spirit people who are also with us, listening to this story. I would like to ask our guests to sit and just listen from a distance, understanding that because I'm speaking to other Cherokee Two-Spirits/GLBTQ folks, that there are many questions, issues, and terms that I won't be explaining here. And since I brought up terminology, I would like to say to other Cherokee Two-Spirit people that we need to remember that gender systems before invasion and colonization were not the same as they are now. While we subsume same-sex relationships and gender "non-conformity" under the umbrella of "Two-Spirit," it is difficult to say if these identities were linked together in the past. There are numerous experiences and identities that we shove under terms like "Two-Spirit" or "Queer" or "GLBT." I've heard several different terms to talk about these identities in Cherokee, but I am going to use "Two-Spirit" as my umbrella term here, knowing that not all of us use this term for ourselves any more than all of us use any of the other terms available to us in English. All of these terms and ideas are slippery and complicated, but "Two-Spirit" carries with it a particular commitment to decolonization and Indigenous histories and identities that is at the center of this particular telling.
This story—in the form of a Stomp Dance—emerges from conversations and experiences with other Cherokee Two-Spirits, as well as from other Native Two-Spirit people. Over the years, my Cherokee Two-Spirit friends and I have been imagining who we are through conversations with each other and through a commitment to decolonial projects. Cherokee Two-Spirit people are currently involved in a complex process of asserting our identities through strengthening memories of our past, committing to who we in our present, and imagining who we want to be in the future.
Because I weave wampum records, I find the metaphor of re-weaving a wampum belt a useful way to think about this particular point in the recovery, creation, and maintenance of who we are as Cherokee Two-Spirits. While many Cherokees have forgotten the importance of wampum records, at one time they were central to Cherokee diplomatic relationships, legal agreements, and record-keeping. There are seven wampum belts that remain important to Cherokee Stomp Dance communities, and they are used to remember and transmit central religious teachings. One of these belts depicts a white path against a field of purple beads, symbolizing the importance of walking duyuktv, of moving through life on a path of peace, justice, and balance... (continue reading)