HISGI/FIVE: OLD FOLKS' DANCE
Dawn is arriving. Shell shakers and singers have danced all night long, ensuring the continuance of the world. At dawn we will end our cycle of dances with the Old Folks Dance.
I want to think about the Old Folks Dance as a way of looking to our elders and ancestors to mend our story and understand who we are in the present. Even though traditions that we are now calling "Two-Spirit" are not as well documented for Cherokees as they are in other tribes, we do have a past and a history, and it is important to remember that there are as many different ways of being Cherokee and Two-Spirit as there are Cherokee Two-Spirits.there are Cherokee Two-Spirits.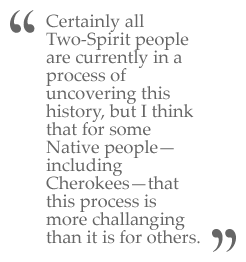 Like so many Two-Spirit people I know, as I have come to understand my sexuality and genders, I have hungered to understand who people like us may have been to our communities in the past in order to help imagine who we are now. Cherokees don't have the luxury of some Two-Spirit people to have both very clear documentation and voluminous living memory of who we have been within our tribal traditions. Certainly all Two-Spirit people are currently in a process of uncovering this history, but I think that for some Native people—including Cherokees—that this process is more challanging than it is for others. I've encountered very little reference to Cherokee Two-Spirit people in historical accounts, though such references do exist. As part of this Old Folks Dance, I want to share some of the references I have come across to Two-Spirit people in Cherokee tradition, and ask you to listen to what these stories might mean to us now. The purpose of this is simply to provide information to other Cherokee Two-Spirits who are searching for these fragments.
I am certainly not the only Cherokee Two-Spirit person involved with uncovering these histories, and I am sure that there is more documentation, published and not, than these brief mentions that I am pointing to here. And, much of this knowledge is held by traditional people and not in written records. Written documentation of our past is often based on European colonists' reactions to Cherokee gender, who thought that all of our genders were "variant." Colonists likely saw female warriors or women in positions of leadership as living as men, even though these were acceptable—and important—roles for women in Cherokee gender systems. Trying to glean from colonial accounts which of these female-embodied people might now be called "Two-Spirit" and which were simply acting in accordance with Cherokee traditions for women is very difficult. We must remember these kinds of complexities as we continue to uncover our past and re-weave our present. I would like to spend some time talking about a few references to Cherokee Two-Spirit histories from published texts and from my archival research, offering them as wampum beads to other Cherokees that we can use to weave our story back together.
In Sarah H. Hill's excellent book Weaving New Worlds: Southeastern Women and Their Basketry, I found a brief mention of male-embodied Two-Spirit people that suggests that males who lived as women were as respected members of their communities as other women:
Pardo…saw among those subsequently known as Cherokees a man who "went among the Indian women, wearing an apron like they did." The startled Spaniard summoned his interpreters and "many soldiers" to ask the local chief about him. The man was his brother, the chief explained, and was not "a man for war." With neither elaboration nor scorn for the scribe to record, the chief said his brother "went about in that manner like a woman," doing "all that is given to a woman to do." It is a slender thread of history suggesting that among Cherokees, as among many native peoples, gender and labor interwove to create identity (66, 1997).
Theda Perdue's Cherokee Women: Gender and Culture Change, 1700-1835 also has some discussion of males and females we might now call Two-Spirit, though I disagree about her conclusions about male-embodied Two-Spirits. While she writes that it is "difficult to ascertain" Cherokee responses to gender "anomalies," some of her information can be coupled with the brief mention of male-embodied Two-Spirits made by Hill and perhaps shift Perdue's conclusions (Perdue 37, 1998). While there is very useful information for Two-Spirit people in Perdue's book, she asserts that male-embodied Two-Spirits were not well respected because of a lack blood rites via war or menstruation (Perdue 39, 1998). This does not take into account the possibility of other blood rites existing for male-embodied Two-Spirits via ritual scratching, tattooing, or other kinds of activities. If blood rites defined Cherokee gender roles during this period, it only makes sense that blood rites existed for male-embodied Two-Spirits to ensure they remained part of the community. One must at least consider the possibility that male-embodied Two-Spirit people who lived as women would still have a warrior tradition open to them, just as it was open to other women... (continue reading)