friend of mine who's taking a French class at San Francisco State University told me recently how the professor asked students, one by one, to answer the question, en français, "How would you describe your ideal man or woman?" My friend Toby began to describe his ideal—his boyfriend Marco ("His eyes are brown, his hair is black…")—but the instructor suddenly interrupted Toby mid-sentence. "No, no," she scolded him in English. "You're not supposed to use the masculine form of the possessive. You should say, 'Her eyes, her hair.'"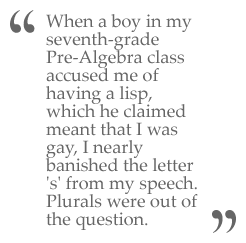 Toby thought the whole thing was pretty funny, but I wasn't so amused. I spent my whole adolescent life changing pronouns and possessives, altering my language to pass as straight in school. I even learned to tell fag jokes as often as possible so they wouldn't be told about me. When a boy in my seventh-grade Pre-Algebra class accused me of having a lisp, which he claimed meant that I was gay, I nearly banished the letter "s" from my speech. Plurals were out of the question. Things became singular, alone.
If I had known then that I'd see that same boy in one of the many gay bars in the Castro some fifteen years later—if I'd understood that he was just the first in a long line of gay men who'd pressure me to pass so they wouldn't feel so lonely in the closet—maybe I wouldn't have taken him so seriously. But take him seriously I did. As a result of my linguistic efforts, I probably have a larger vocabulary than many of my old classmates, but fifteen years later I still shy away from sibilant words whenever I'm the least bit nervous —like when I'm out on a date with a guy who manages to wear his masculinity with some semblance of authenticity and self-possession.
Now in college and talking to my openly gay friend Toby in the office of the Queer Alliance, San Francisco State University's gay student group, I realized that the same pressure to conform I'd felt in the seventh grade was still alive and well here in San Francisco. Only the words had gotten bigger. Instead of being accused of being a cocksucker, I might be accused—if I were to take a French class too—of improper use of the masculine form.
When I arrived at SF State, I was ready to relax and stop fighting. After years of straining to pass as heterosexual in school, followed by more years of activism and advocacy for queer youth, I was ready to be on the academic equivalent of R&R —basking in the warm glow of queer community that San Francisco promised. I was ready to be accepted with open arms into that community, and I expected that I'd find a boyfriend by the end of my first semester.
But it wasn't that simple. When I arrived, I was shocked to find that I still felt relatively invisible. What was going on? Hadn't thousands of students from all across the country come here seeking safe haven from their backward backwater hometowns? The Castro was full of such refugees, even though they were loath to talk about such things at their favorite watering holes. I knew that, ever since the Gold Rush, San Francisco had been a place that attracted misfits and miscreants dreaming of hidden riches and open lives. That was the city's reputation, but where were these misfits now? Changing their language in classrooms, changing their behavior on the streets to avoid the harassment that still happens.
A lot of people, including most of the gay people I know, think San Francisco is one of the best places in the world for gay people to live. But if San Francisco is one of the best places in the world for us, that says more about the sorry state of the world than it does about San Francisco. Sure, you can hold hands with your same-sex partner in the Castro. But travel six blocks north, south, east or west from the intersection of Castro and Market streets, and you're just as likely to be sneered at as you are to be cruised. You might even be catcalled by passing motorists.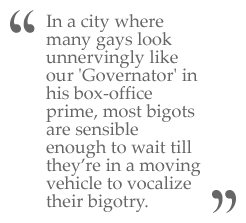 In a city where many gays look unnervingly like our "Governator" in his box-office prime, most bigots are sensible enough to wait till they're in a moving vehicle to vocalize their bigotry. Just last week, in fact, I was walking through Hayes Valley, the upscale neighborhood just east of the Castro that's home to our city's LGBT Center, when a carload of boys yelled "fag." At first I thought maybe they were calling me "fat"— was this, I wondered, a driveby attempt to urge me to spend more time on the Stairmaster? But no, they didn't care a lick whether I toned up my midsection or not; they were calling me a faggot, urging me to tone down my faggish, gay, unmanly appearance. Their jeers were diminished slightly by the Doppler effect, but rang clearly in my ears even after their car had disappeared over a hill.
Accusations like this, such blatant reminders that I'm not cutting it as a "real man," are blessedly rare now that I'm all grown up. Which makes me grateful, sometimes, to be single. The odds of being pegged as gay go up, after all, when you're coupled, and if you two manage to walk out of the gay ghetto into some other neighborhood without being hassled, you're aware with every step you take that you're making a political statement. If you lean over to kiss your lover in a nice restaurant (since going to a nice restaurant arguably means leaving the Castro), you're not just being affectionate, you're being radical. And if your date seems cold and distant over dinner, you're left to wonder, "Is Bob not interested in me, or is he afraid of being attacked?" Small wonder, then, that even in a city that's about 25 percent gay, very few gay men seem to be in long-term relationships... (continue reading)