wo years ago, with no clear end goal in sight, I began physically altering my body with testosterone to masculinize my physical appearance. Even now, I still don't know what to call this land that I inhabit. I wouldn't necessarily call myself a "man," though that is usually how people now perceive me. The vocabulary to describe living in a gender outside of the strict binary male and female genders is limited, relatively new, and still constantly evolving. Even when I attempt to describe my current identity, what comes out eventually contradicts itself and runs in circles. However, being referred to with male pronouns and a male name make me flinch less than going by female pronouns and a female name, so I usually put myself into the male category when forced to make a choice.
Let me explain a little about myself. I have – at various points in my life – passed as a woman, a man, and sometimes as gender ambiguous. Now, I struggle to settle into an identity, and I find myself drifting somewhere between transman and genderqueer. I resist describing myself as having had a "sex change," as that implies a clearly defined process for changing from one defined sex to another. I hesitate to even refer to what I have experienced as a "transition" unless I am referring to it as something that is still on-going. I started to transition in 2005 when I changed my name, started going by male pronouns, and began binding my chest flat. A few months later, I started injecting myself with testosterone. To date, I haven't undergone any surgeries – "top" or "bottom" – to alter my body.
As a transgender person, people often ask me, "What made you decide to start transitioning?" and "How did you know?" I am always at a loss of how to respond. Truth be told, even I don't know what my motivations were. I did know that I was unhappy with being female, and I had been living as fairly gender ambiguous for years. Living as a woman left me feeling like a fraud, and I imagined that there may be a better existence for me on the other side of the fence. Mostly, though, I was curious about the other possibilities. What would it be like to live as a man, to have a deeper voice, a new name, a completely flat chest, testosterone coursing through my veins? What would it be like to be an effeminate man as opposed to a masculine woman?
Over two years later, the same questions about my motivations continue to plague me. In particular, I struggled to reconcile my decision to not be a woman with my feminist beliefs. Once I began passing as a man, new questions emerged. I want to live in a way that makes me comfortable with myself, but I can't help but feel that passing as a non-transgendered man erases my past as a woman, leaving me feeling just as frustrated and feeling just as false. Finding a place where my identity and my physical self reach a common ground has been a struggle, and it is something that I am still working toward. This essay will follow that ongoing struggle to unite my politics, my identity, and my physical self into a "me" with whom I feel comfortable.
Becoming a Transfeminist
Prior to coming out as transgender, I was an outspoken radical dyke in my small Midwestern college town of Athens, Ohio. I became active in radical queer politics at Ohio University by staging protests, organizing events, planning and participating in street theater, and generally working for change. I marched in the hotly contested "women-only" Take Back the Night march, attended performances of The Vagina Monologues, served as the treasurer for several years of the aptly named "Swarm of Dykes" student organization, and participated in women-centric feminist events. Yet, despite my presence on campus as an out-and-proud dyke, I was internally struggling with my identity. I had been questioning my identity for years, but I lacked the vocabulary and exposure to ideas to know what I was questioning. Until that point, I had assumed that I was unhappy with the kind of woman that I was presenting. I flipped through several phases, one after the other, trying to find an identity and gender presentation that fit me. I went from a clueless nerdy girl to a goth to a hippie girl to a butch/androgynous dyke. As I continued to move further along the butch spectrum, I realized that even that didn't really fit. Eventually, I came to realize that my depression wasn't about what kind of woman I was; my depression was coming from being a woman in the first place.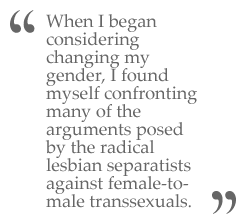 As an outspoken feminist, I didn't know how to explain to my peers or myself that I wanted to explore a male gender identity. As a young girl, I understood feminism to mean that I could do everything that boys could do. I could be strong and fiercely intellectual. I would refuse to be meek and docile, and one day, I would serve as a strong female role model for young girls. When I began considering changing my gender, I found myself confronting many of the arguments posed by the radical lesbian separatists against female-to-male transsexuals. Even though I didn't know of Janice Raymond (who in 1979 claimed transwomen "rape women's bodies" and accused transmen of being traitors and "'the lost women' to other women") with the specific kind of separatist thinking she epitomized, the same kinds of thoughts and questions were crossing my mind when I was a young college student. If I was no longer presenting myself as a woman, would I be a "traitor" to the feminist cause? Did I want to be a man because I craved male privilege? Or, more to the point, was I just tired of appearing gender ambiguous and constantly being harassed by strangers and looking for a way out? According to radical lesbian separatists, I was supposed to take pride in my woman-specific differences, whether they were hardwired genetically or socialized culturally. However, try as I might, I could do nothing of the sort... (continue reading)