or years, I had a single problem. From the moment I stepped out of the closet and admitted to myself that I was gay, I immediately began to feel insecure about not having a man in my life as a romantic partner. What began as simple adolescent insecurity developed into a complex as I grew into early adulthood. The older I got, the more deficient I felt for not having someone to love me. I was excelling academically in college, building a solid and successful career in politics, and establishing and developing very meaningful friendships. I had it all, or at least as much as anyone in their early twenties could expect to have. Yet, I felt as though my life was lacking in some way. No matter how good life was, this problem – this single problem – persisted.
I assumed that it would go away the minute I found someone to love me. All of my insecurities about my life, my looks, and my place in the world would be fixed the moment "prince charming" came in and swept me off my feet. Like so many young girls find themselves doing, I was waiting on the fairytale narrative to give my life meaning (as if a life without love was also one devoid of this alleged "meaning"). Never mind that I enjoyed my college classes and soaked up all the new theories and concepts I was learning. Never mind that I loved my job managing and directing a local grassroots political party. Never mind the very deep and connected friendships I had built over the years. Never mind the fact that I actually liked living by myself, alone, in my own eclectically decorated and perfectly organized apartment. I was convinced that all these elements that made up my version of the "good life" were insignificant and meaningless. Under the ever-anticipated glow of love, I expected all my insecurities would just melt away.
What a crock!
Looking for and finding love, it turns out, isn't quite so easy. The romance narrative – found in movies, book, and magazines – is built on the idea that you're no one until someone loves you. Without love, life isn't even worth living. This trope is constantly re-enforced by social institutions (including religion and government), families, peers, and most of all, popular culture. Most of us are taught unquestionably from a very young age that getting married and having children is something of a rite of passage into becoming a full-fledged "grown up."
Our society constructs rituals and celebrations around this idea and exalts couplehood above all other forms of existence. It begins when we are young – when middle school dances and later high school proms are highlights of the academic year for many teenagers. Dating is all the rage among young peer groups as adolescent pairing off often equates to popularity and self-validation. This celebration of coupledom continues into adulthood when married people are thrown lavish parties to celebrate their dual partnerships, and when parents are rewarded with showers of gifts for their ability to reproduce. The celebration of couples is everywhere! Couples get parties – single people get pity!
Along the way, we are constantly reminded by popular culture that single equals deficient. There's Celine Dion, who docilely sings "I'm everything I am because you loved me", suggesting that all of our accomplishments are the result of someone else having romantic feelings for us. Avril Lavigne also doesn't seem to be able to accomplish much on her own, at least not according to her song When You're Gone, as she confesses that when her lover is away, "I can hardly breathe I need to feel you here with me." Jessica Simpson seems to think she can't even stand up with out a man, as she confesses in the lyrics of her song, With You: "I can let my hair down / I can say anything crazy / I know you'll catch me right before I hit the ground / With nothing but a t-shirt on / I never felt so beautiful. Baby as I do now / Now that I'm with you." LeAnn Rimes takes the cake, though, in How Do I Live, lamenting that she simply cannot physically live without her man. "How do I live with out you; I want to know; How do I breathe without you / If you ever go / How do I ever, ever survive / How do I / How do I / Oh, how do I live". We can only hope that Ms. Rimes current relationship will never dissolve because she will apparently be dead if it does!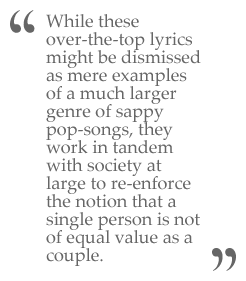 While these over-the-top lyrics might be dismissed as mere examples of a much larger genre of sappy pop-songs, they work in tandem with society at large to re-enforce the notion that a single person is not of equal value as a couple. Gradually, we learn and internalize the notion that what we accomplish on our own pales in comparison to what we accomplish by falling in love and tying the proverbial knot.

I tacitly adopted this ideology for years without realizing it. Throughout my late teens and early twenties, I developed intense crushes on a handful of guys that I desperately wanted to turn into romantic partners. None of them showed any real, substantive interest in me, though – yet I hoped that, by pining after them, somehow they would see just how great of a guy I really was. When efforts to "catch" the current object of my desire failed, I resorted to looking anywhere I could for companionship. I tried Internet chat rooms, on-line dating services, gay social organizations, and gay dance clubs. I didn't find anyone who interested me in any of those places, though I did manage to snatch up a few dates... (continue reading)