During the chaos of the past 460 years since De Soto invaded our lands, Cherokee Two-Spirits have been largely erased and hidden. It's as if the story of who we are and our place in the world was woven into a beautiful wampum belt. And then

hate's long knives
tore through
deerskin, sinew
Purple and
white beads flew
through air
thick with
smoke
from burning
townhouses
Beads scattered into
undergrowth
pushed deep
into feet-bloodied paths
Beads hidden high in caves
by the escaped
Everything
sliced
into pieces.

We've internalized unbalanced power relationships between men and women, between Two-Spirit people and others. Our work as Two-Spirit Cherokees is to mend these relationships and aid our communities in healing. We must weave the pieces of our story back together.
Given the brutal history of the past several hundred years, it should come as no surprise that many Cherokees have tried to suppress Two-Spirit people and histories, or that many Cherokee Two-Spirits struggle with making sense of who we are within our tribal traditions. Sometimes all we have left are fragments.

But sit still.
Listen close.
Look: four white beads there in your right hand,
three purple beads here in mine.
We can travel back over
removal routes
gathering beads.
Some of us have large pieces of the belt.
Some of us only have scraps of singed deerskin.
But we begin
to remember
the pattern.
Come on all you Cherokee Two-Spirits!
We are assembled here to continue
our story.
Each of us
has a piece.
TAL'/TWO: DAKSI, DAKSI, DAKSI ALEGWUI/ COME ON ALL YOU SHELL SHAKERS
Crickets hum a heartbeat rhythm under a hot Oklahoma night. Women wearing turtle shell or milk can leg shackles are called to dance. The figures of women are silhouetted against the light of the sacred fire, answering the call.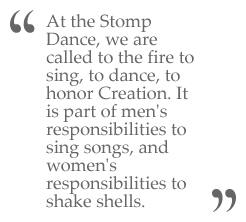 At the Stomp Dance, we are called to the fire to sing, to dance, to honor Creation. It is part of men's responsibilities to sing songs, and women's responsibilities to shake shells. Stomp Dances cannot take place without shell shakers: our lifeways are dependent on them. Brian Joseph Gilley's book Becoming Two-Spirit: Gay Identity and Social Acceptance in Indian Country mentions the fact that some male-embodied Two-Spirit Cherokees are shaking shells as a reflection of their place within ceremonial communities and traditions (141-143, 2006). At this particular time in our history Cherokee Two-Spirit people of all genders are calling each other out of hiding, out of the confines of white notions of who we are. We are being called to take our place within our communities, to "shell shake" our traditions in order to restore duyuktv. The responsibilities we have as male-embodied Two-Spirit Cherokees—to sustain our lifeways and cultures—is like shell shaking. We have the responsibility to restore and maintain duyuktv through practicing Cherokee lifeways and ending gender oppressions.
Two-Spirit liberation is part of a larger process of decolonization. Many of the current conversations and activism in both radical Queer and Trans communities as well as mainstream GLBT movements tend to ignore the colonial realities and contexts that are the center of struggles for Two-Spirit people. As Native feminists such as Beth Brant, Chrystos, and Andrea Smith have pointed out, current systems of gender oppression and homophobia in the Americas are part of ongoing colonization and genocide against Native people. Non-Native Queer movements often place sexuality and gender as oppositional to heteronormative practices, and with good reason. While similar politics certainly come into play in Two-Spirit movements, the more central argument that we are making is that our lives and identities—including, but not limited to issues of sexuality and gender—are integral to Indigenous struggles for decolonization, self-determination, and cultural continuance.
Taking this stance isn't a "mainstreaming" tactic, but instead is a radical act against colonial mindsets and empires that surround us, trying to dissolve our claim on these continents. Two-Spirit people are not asking our tribal communities to accept us as "just like" straight gendered people. We are asking our communities to remember who we, as nations, are. And, just as importantly, we are asking our communities to imagine who we want to be. Two-Spirit people can change patterns in our communities that are damaging. We are looking to our core values to imagine the places we should have in our communities. Two-Spirit Cherokees are calling each other out of shadows to participate in the rebalancing of the world. And it is through living up to our responsibilities as Cherokees, particularly as Two-Spirits, that we "shell shake." We are insisting that we have a place in the circle and that our lives and work in the world is absolutely and uncompromisingly necessary to the continuance of Cherokee traditions.

Daksi, daksi, daksi alegwui!
Come on all you shell shakers! Hurry!
... (continue reading)