he night I stripped for the first time was the night I became an activist.

It was December 2003, and my friends and I – having just finished final exams – decided to celebrate by going to a gay male strip club in Washington, DC. I had no idea what to expect; I had never been to a strip club before – gay or straight.

Approaching the club, I could here the thumping bass of the music from inside, and my heart was quickening in time with the rhythm as we made our way toward the front door. We paid a small cover charge and made our way onto the main floor. The source of the music came from floor-to-ceiling speakers on either side of an enclosed DJ booth. In front of us, patrons sat around a bar while nude dancers performed acrobatic routines from brass poles hanging from the ceiling. The small main stage – backed by sparkling gold streamers – lined the far right wall as a muscular policeman slowly removed his clothing while a bachelorette party watched in awed anticipation. Along every wall, television monitors broadcast images of men in every possible sexual position.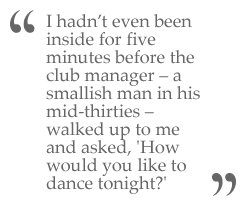 My friends and I stood in shock, attempting to process the sensory overload that had hit us only moments earlier. I hadn't even been inside for five minutes before the club manager – a smallish man in his mid-thirties – walked up to me and asked, "How would you like to dance tonight?" His question caught me off guard. Me?! Dance? Naked?! Only a few months had passed since I lost my virginity, so being suddenly propositioned to enter the sex industry, however briefly, was a complete shock. I glanced at my friends, giggled, and coyly declined his invitation. He didn't persevere, but told me to let him know if I changed my mind.
After much deliberation with friends, and after the manager and several dancers again attempted to sway me, I decided to suck it up and get on stage. With gold streamers twinkling behind me, I stripped down to nothing but my socks (where of course attentive customers would place their generous tips).
Like any virgin, my first time was less than spectacular. I don't imagine it was very erotic as I had no idea what I was doing – and I wasn't particularly confident with my body. Not to mention the fact that my two best friends were staring up at me from the floor below! Additionally, whenever I noticed one of the club's patrons watching me with any interest, I would quickly look away, embarrassed by their attention. But I finished my thirty minute shift, collected my tips (a paltry $20), and left the club quickly, afraid to hear any comments from the other dancers, patrons, or the manager. But as I exited the club, my emotions took over and I felt a rush of exhilaration at having broken out of my comfort zone and tried something new. I was hooked!
While I had a great time on stage that night, my overprotective boyfriend and a stint overseas to study abroad hindered my return for almost a year. When I was given an assignment in class to develop an ethnography around a designated "queer space" in DC, I immediately thought that the strip club would be the perfect place to conduct my research – and possibly make my return to the stage. So I made a deal with the manager who had months before coaxed me onto stage: I would strip periodically at the club, in exchange for interviews with club patrons, employees, and other dancers. And, of course, I got to keep all of the money I made. It was a perfect arrangement!
For the next four months, I became something of a regular there, talking to dozens of customers and strippers while writing furiously about the ins and outs of participating in this particular queer space: How the dancers interacted with the customers; how the customers interacted with each other; and how the venue itself facilitated social networking among everyone in that space. Concurrently, I felt empowered by dancing. Never before had I been admired for my body – and the ability to make money simply by using what nature gave me was liberating and my self confidence grew immensely.
As time went on and my research project came to a close, I felt that it was time for me to make a decision: to continue stripping or end my career as I ended my project. Although my friends and my partner all knew that I was doing field work at a strip club, I had decided not to tell anyone about the full extent of my involvement. I felt gratified by the work, but the negative reaction from my boyfriend after my first foray into the world of stripping frightened me into keeping my silence. And that fear ultimately made my decision for me: I would stop dancing. At the time, I couldn't bring myself to face my friends' reactions, and although it saddened me, I felt such a relief upon quitting. No longer would I be lying about where I was going or what I was doing there. In fact, I found myself so afraid of what people would think of me that I didn't tell anyone about my work until several years later.
Even though my tenure in the sex industry was relatively brief, my work at the club impacted me immediately. I began reading anything I could get my hands on regarding strippers, sex workers, and others working in the sex industry. Unfortunately, most of what I read was disheartening. Little to no testimonials or research have been done on or by male sex workers, and many of the texts I read addressing female sex workers were derogatory and unenlightened. Sex-negative feminists, such as Catharine MacKinnon and Andrea Dworkin, viewed sex work – even gay male sex work – as being exploitative of women and inherently evil; and many of their colleagues seemed to subscribe to that particular point of view. From what I found, it seemed that academia had agreed that the sex industry was put in place for one purpose: to exploit and degrade its workers... (continue reading)