Purdue draws conclusions about Cherokee gender constructions based on gender in other tribes, but lacks this sort of analysis when it comes to male-embodied Cherokee Two-Spirit people. While broad generalizations cannot be made, the fact that in some traditions male-embodied Two-Spirits engaged in simulated menstruation could suggest that similar practices may have existed among Cherokees (Gay American Indians & Roscoe 38, 1988). Certainly many contemporary Two-Spirit Cherokees go to great length to ensure their physical bodies reflect their gender identities. Regardless of Perdue's interpretation, her book provides important information about Cherokee Two-Spirits that we can use to understand who we are in the present.
Walter L. Williams' The Spirit and the Flesh only marginally speaks about Cherokees, but he cites a manuscript by C.C. Trowbridge that mentions male-embodied Two-Spirits. Williams quotes this excerpt from the Trowbridge manuscript: "There were among them formerly, men who assumed the dress and performed all the duties of women and who lived their whole lives in this manner" (4, 1992). During the roundtable "Indigenous Politics and the Question of Same-Sex Marriage" at What's Next for Native American and Indigenous Studies? David Cornsilk mentioned that this particular document goes on to suggest that marriage was practiced by all Cherokees, including Two-Spirit people (Kauanui 2007).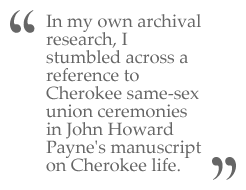 In my own archival research, I stumbled across a reference to Cherokee same-sex union ceremonies in John Howard Payne's manuscript on Cherokee life. John Howard Payne was a EuroAmerican actor and playwright who lived for a period of time with Chief John Ross in order to document Cherokee customs. Payne mentions this union ceremony more than once in his manuscript, which describes a particular performance to formalize "perpetual friendship." I am including a long excerpt from his account in order to offer this information to other Cherokee Two-Spirits uncovering our histories. Seeing the process of looking to our past as an Old Folks Dance not only means looking to our histories and elders, it also means sharing that information with other Two-Spirit people as an act of reciprocity. Payne documents the following same-sex union ceremony:
Taking an opportunity sometime during that feast, when the people were seated in the council house, they arose, walked toward the fire, and then turned and commenced dancing around the fire…each having on his best clothes. While dancing, in the presence of all the people, who looking, they exchanged one garment after another till each had given the other his entire dress, even to legings, mocasins etc. and thus each of them publicly received the other as himself, & became thus pledged to regard and treat him as himself while he lived. Sometimes two women, and sometimes a man and a woman contracted this friendship. Thus when a young man and woman fell in love with each other but were hindered from marrying, either by relation or by being of the same clan, they bound themselves in perpetual friendship. While dancing round the fire as above stated, the man threw his blanket over the woman, and the woman as soon as convenient threw hers to the man. The man also, having prepared a cane sieve, & hung it by a string over his shoulder, gave her that. He also presented her with a pestle to pound corn with. The mortar he had for her at home (Volume III, 49-50, ca 1835).
While Payne makes sense of this as a friendship ceremony, I doubt very much that it was a ceremony only to cement a "friendship." The fact that Payne mentions opposite-sex couples in love, but not able to have children because of clan laws, suggests that the same-sex couples were likewise in love. Perhaps what was common to both opposite-sex and same-sex couples in this arrangement was the fact that they would not be bearing biological children. The fact that the opposite-sex ceremony is not terribly different than contemporary "traditional" Cherokee marriage ceremonies leads me to think that the same-sex ceremonies were likewise a public ceremony to define a loving, romantic, same-sex relationship.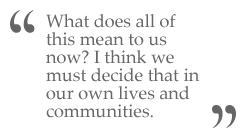 What does all of this mean to us now? I think we must decide that in our own lives and communities. Should I ever have a public union ceremony, for instance, I certainly would want to incorporate aspects of this older same-sex union. It is my hope that uncovering this bit of information will be useful to Cherokee Two-Spirit people who are part of ceremonial communities in re-weaving our places within our traditions, and for those who are working to document both same-sex relationships and complex gender systems in Cherokee traditions in order to work against the internalization of dominant culture's values around these issues. Putting aspects of our past into practice is part of an ongoing Old Folks Dance that honors our history and rebalances our present and future.
Another way of thinking about our work as an Old Folks Dance is to look at the values contained in our traditional stories. Cherokee stories talk about beings that were the most hated, (like Buzzard), the most mocked, (like Water Spider) and sometimes the most feared (like Uktena and Stonecoat), and how they were the ones that created the world, our lifeways, and formed the landscapes of our homelands. It is important to remember people from our history (like Sequoyah) and present (like Wilma Mankiller), who have had to overcome skepticism, prejudice, and disdain—and how important they are to our survival and identity as a people. These stories are precedent for our identities as Cherokee Two-Spirit people.
Aside from historical accounts of Cherokee Two-Spirit people and traditional stories, we also have artists and writers who have gone before us, like the playwright Rollie Lynn Riggs, whose play Green Grow the Lilacs was the basis for the musical Oklahoma, or the late Vickie Sears, a writer/activist/psychotherapist and author of Simple Songs: Stories. We are also blessed to have living writers and scholars such as Daniel Heath Justice. Justice's fantasy series The Way of Thorn and Thunder creates a central place for Two-Spirit people, and his scholarship honors our intellectual and artistic history. Cherokee Two-Spirits are building places our future by looking to our past, dancing an Old Folks Dance to rebalance the present.

SUDAL'/SIX: PRAYER
Unetlanvhi,
Wa'do for all the blessings you give us.
Wa'do for our food, our water, our homes, our friends, our family. Wa'do for bringing us to this place and time to do this work.
Help us not be afraid.
Help us walk duyuktv.
Help us continue our language and our lifeways.
Help us do the work that we need to do to heal ourselves, our communities, and our world.
Wa'do

... (continue reading)