TSO/THREE: FRIENDSHIP DANCE
Shell shakers begin shuffling out a rhythm as men in cowboy hats and baseball caps sing. Some of us are elders, some of us are young, some of us use canes. We are all part of the circle.
Now that shell shakers and song leaders are assembled, we can begin a Friendship Dance. The Friendship Dance, like all performances during the Stomp Dance, reflects a balance between genders, and I think that it is a useful way to think about traditional Cherokee relationships with gender.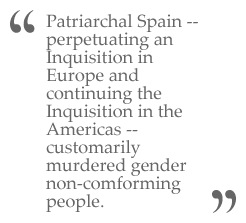 Before European invasions and concerted efforts by missionaries to disrupt our culture, Cherokee gender systems reflected duyuktv. Two-Spirit people in the Southeast have been a target of colonial violence since the Spanish invasion. Patriarchal Spain— perpetuating an Inquisition in Europe and continuing the Inquisition in the Americas—customarily murdered gender non-conforming people. Women's central place within Cherokee life was looked at with fascination and derision by European invaders, who mockingly labeled our nation a "petticoat government" and misinterpreted Cherokee female warriors as "amazons."
When European invaders and missionaries began toppling Cherokee gender roles, all of duyuktv was disrupted. Before this, women had jurisdiction over their children, homes, and community agriculture. They had authority over our homelands. Colonial powers, in an effort to gain control of our landbases, toppled Cherokee women's traditional roles as leaders and diplomats and almost destroyed our matrifocal clan system. Through violent enforcement of patriarchy, gender relationships made a dramatic shift. Rather than seeing the roles of men and women as always in duyuktv, Christian European patriarchy enforced ideas of male supremacy, rigid gender categories, and sexuality as something to be suppressed and controlled.
I was recently talking with a Cherokee Two-Spirit friend of mine about how Two-Spirit people embody duyuktv. Two-Spirit people have an intimate relationship with, and obligation to, duyuktv because of our specific relationships with gender. Healing from our history entails recognizing how damaging colonial gender is to lives. We must claim gender as a Friendship Dance that places us all within the circle of our communities, rather than allowing gender to be site of violence and tool of oppression. While masculine-identified straight males may gain societal privilege because of their genders and sexualities, we know that their gender experiences are often filled with abuse and violence from childhood in order to inscribe patriarchal values—and a fear of stepping outside of them—onto their psyches. Those of us socialized as male know the very real physical, emotional, and psychological dangers of that process. The internalization and manifestations of patriarchy move Cherokees further away from duyuktv, undermine struggles for decolonization, and buoy the power of colonial regimes. Remembering who we are as Cherokees entails unlearning colonial gender systems.
As a male-embodied Two-Spirit, part of my work is to move back and forth between different gendered spaces, taking information about those experiences with me and sharing them with others. People see me as countless genders including a Queer man, as Gay guy who wears skirts, a Queer woman, a straight woman, a drag queen, a Trans woman, a Trans man, a transvestite, a cross-dresser, an androgynous person, and a straight man. Moving through these spaces has taught me that most of them are deadly dangerous. One of the gifts of experiencing gender from multiple angles is gaining knowledge to work against sexism and gender regimes in all of our communities. Transforming this knowledge into radical, non-violent action against sexism and transphobia is a Friendship Dance that helps restore duyuktv to gender systems. As male-socialized people, we are just as responsible for ending sexist oppression as straight men. Seeing gender as a Friendship Dance involves constant examination of the ways we are both injured and privileged because of being born male in a patriarchal country.
Native women have long called Native men to work in solidarity with them against sexist oppression. Male-embodied Two-Spirit people must answer that call and aid in dismantling gender and sexual oppression. This is part of our responsibility in restoring duyuktv. We must shell shake and sing a Friendship Dance to mend the damage done to Cherokee gender through invasion, genocide, and removal.

NVGI/FOUR: STOMP DANCE
Our songs weave with Cricket's, with Turtle's, with the songs of our grandmothers and grandfathers. They sing of loss and love, of our stubborn and gorgeous survival, of our determination to continue.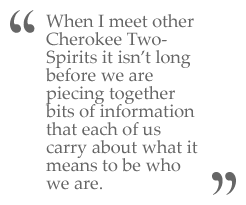 Stomp dancing is central to the continuance of our traditions, and remembering who we are as Two-Spirit people is a part of that continuance. When I meet other Cherokee Two-Spirits it isn't long before we are piecing together bits of information that each of us carry about what it means to be who we are. Through sharing our stories, what we've taught ourselves, what we've learned from traditionalists and elders, and what we have pieced together from books and dreams, we create the living archives of our history. We are stomp dancing our story back to us.
Almost all of the Two-Spirit people I know are deeply committed to carrying on our lifeways, reviving traditions that have gone dormant if necessary. I think that this is a logical path for Two-Spirit people to follow. For example, I've had to search for what my gender-sexuality has meant in the past so that I can understand what it means in the present and future. Through this journey I've become deeply invested in also relearning our language, songs, dances, and arts. This process of cultural revitalization, for all of us, is like a stomp dance. It is through this work that we rebalance the world.
Each Cherokee Two-Spirit must listen closely to ourselves and remember what work we are meant to do in this world. Some of us are deeply committed to the Cherokee language. Others of us are invested in learning and teaching particular arts. There are Two-Spirit Cherokees dedicated to ceremonial communities, and those who are uncovering our histories through research and scholarship. Many of us work for the well-being of our environment or fight against the numerous forms of oppression that face us daily. Through this stomp dance we ensure our survival. And, like a stomp dance song, our actions call out to other Cherokees who respond through their own singing and shell shaking, spiraling around the center of who we are... (continue reading)