fter sitting in a cubicle all week, there's nothing I enjoy more than disco. Away from my boring breeding co-workers, a night spent dancing with a group of sweaty, shirtless, gregarious, and generally hot guys is relaxing and reminds me that there's light at the end of the workweek. Even if most of the people in the club are strangers, there's a sense of commonality that I have neither experienced nor witnessed at straight clubs; straight guys fight, queer guys vogue. That's why having our own separate space is so important.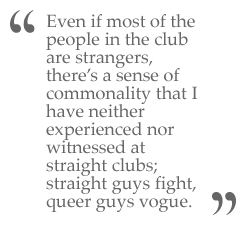 As a toned 20-something with a thick head of hair and a flattering wardrobe, and especially as a top, I get my fair share of attention at the clubs. But even if I happen to be single at the time, and even if the potential suitor appears to fit my ridiculously narrow parameters for potential boyfriends, I'm rarely interested in allowing anything to develop. It took awhile to not feel like a loser dancing only with friends, or alone, but it also took me a long time to learn that I look better without rings on half my fingers and a silver chain beneath my chest hair.
One drunken Saturday night, after the friends I'd come with had hooked up with other people, I decided to approach a guy who'd thrown me a couple glances. We had a great time. He met all the prerequisites: height (not too tall); hair (full and dark), and position (bottom, bottom, bottom!). When he yell-whispered into my ear the precise kink that consumes my fantasies, I almost took him home.
But take him home I didn't. I told him to wait for me while I went to use the bathroom. But I never came back. Instead, my buddies and I stumbled to the 24-hour greasy diner requisite of a proper gay night out and made our way home, completing another gloriously repetitive night. Needless to say, the next day I felt like a complete asshole.
For me, casually dating or fucking guys is a lot of work. In fact, to the surprise of many, I find that it can be harder with men than with women. We've all heard the line about bisexuality being sensible because it increases one's prospective dating pool, and while that's still true for me, the numbers don't increase for a female-to-male transsexual top the way they do for non-trans tops.
It wasn't too long ago that I discovered the scores of gay bio guys on craigslist looking for gay trans guys. When I began transition in high school, and later when I discovered the existence of trans guys who like other guys, and even later when I realized my existence as a trans guy who likes every gender (but never blonde), I by no means thought I'd live to see the day that FTMs were fetishized. For better or worse, everyone knows about transgender women, but female-to-male might as well mean unicorn-to-leprechaun; the general population doesn't understand we exist, let alone how cool we are. (Well, some of us.) Now that more and more gay guys are realizing that they can enjoy dating and fucking us, the lives of biomen-loving-transguys are changing.
However, with appreciated exception, almost every FTM-chasing fag is looking for a bottom. There are a lot of FTM-chasing tops and FTM bottoms, and I'll bet they're having a lot of hot sex as you read this. Good for all of them. But back to me: What's a transguy top to do? I can't speak from personal experience, but suspect that most bioguys would rather hear that I have crabs than about the pimped out equipment I carry below my belt.
Due to this frustrating reality, I don't sleep around, and I am discriminating about whom I'll pursue. At this point in my life, as a young, untethered, self-sufficient, and generally confidant and content man, I don't pursue anyone I don't have reason to believe is worth the hassle. Bottoms are a lot of work, whether they love you or not. I don't like to waste my time or anyone else's.
I'm not one of those FTMs who thinks that we should deny the benefits of the tranny bonus hole; far from it. As someone who loves and appreciates bottoms, and sort of relies upon them to have real sex, I think it's great when other transmen are able to fully utilize the complexities of their bodies while retaining their sense of masculinity and integrity. Smoke 'em if you've got 'em.
I, however, am not a bottom. This seems to leave guys confused as to what, exactly, I expect to do with them. For example, there's the closet-case who bottomed with every other guy he was with, who I handcuffed and spanked, who still thought I was a bottom. After untying him, he nervously moved between my legs, furrowed his brow, and took aim before I realized his intentions.
It's not just the prospect of having sex with me that seems to confuse guys, though. Then there's the guy I met at a club and went out with a few times. He was gorgeous, and on our first date unexpectedly told me, "I will cook for you, I will clean for you, but I am keeping my job! Now watch the movie." Upon learning what makes me so interesting, he looked devastated and said that he had to go home to take a nap. I never saw him again, and needless to say, that's a good thing.
I've been talking tranny to friends, enemies, schools, co-workers, and medical and social service providers for years now. Though I've gained insight and otherwise benefited from doing so, that game for me is as played out as the phrase played out. Once tragically desperate to discuss gender until I lost the energy to lift my perfectly pomaded head, eventually it seems that I said everything I had to say – repeatedly – to varying reactions. Thus, in an effort to preempt more talk (any short, dark haired, funny vegetarian bottoms reading this?), let me cover some of the important stuff right here – some of the stuff I'm tired of explaining. You'll notice that I am most tired of explaining the physical mechanics of my body, as other aspects of transgender life are at least more likely to avoid me repeating myself. Hopefully if I hit on you you'll know what to look forward to having read this.