It was only through the company of other faggots in Chapel Hill that I was able to deal with Joe's jarring attack. I stumbled upon my new posse of homos at the local coffee shop on a particularly slow evening in September. A boy named Andre quietly passed me a note that read in jagged handwriting, "Power House – You know." I didn't "know," but I was quickly whisked 10 miles away to the Waffle House in Durham with Andre and two of his friends. They had officially invited me into what would soon become my new queer family in Chapel Hill. After a sweaty night of dancing and debauchery at the gay bar, we'd head over to the sleazy 24-hour eatery with a laptop, order greasy food and coffee, and sing songs by Fiona Apple, Whitney Houston, or perhaps even a tune from the musical Rent.
At each stage of my young life, I have been blessed with friendship groups of queer men like this who nurture, inspire, and motivate me. While not all of these men have necessarily been a caricature of femininity, we have all dabbled in the art of camp together to create a kind of collective identity. All of us had struggled as outsiders in a culture obsessed with an image of masculinity that we did not resemble. Being in the South only exacerbated this feeling of alienation.
It was this feeling of alienation that facilitated coming into my political consciousness. Growing up in a household rife with "GOP" political commentary (my father would insist on making us listen to conservative talk radio on family road trips) had, early on, familiarized me with the kind of inflammatory rhetoric that is 21st century American politics. I launched my career in activism in high school, when I directed and performed in a Broadway Revue with a group of my theatre friends that raised nearly $1000 for the International AIDS Vaccine Initiative. In a North Carolina public school, AIDS was the closest I could come to doing anything in the realm of queer activism. It was also something of a slap in the face to my high school, where I was the only openly queer person.
It wasn't until college, however, that I really began to find an intellectual space to challenge the culture that I had always viewed with suspicion (and, likewise, that had always viewed me with a healthy dose of suspicion). Though I was lucky enough to have a US History teacher in high school who assigned Howard Zinn's The People's History of the United States, the vast majority of my teachers never asked us critically examine American history or, for that matter, American culture. Not even the local LGBTQ youth group asked these kinds of questions, settling for just making sure we didn't get AIDS or kill ourselves.
My professors in college, on the other hand, demanded that I do so. I was particularly drawn to feminist critiques of culture for the way that they challenged norms of gender. I had a lifetime in training in understanding the grave shortcomings of the gender binary. Women's Studies classes with professors like Sherryl Kleinman, Karen Booth, and Pamela Conover, all gave me new critical tools with which I was able to build a queer political consciousness. We read from authors like Suzanne Pharr, who eloquently made clear the links between homophobia and sexism, and Kate Bornstein, who has with great wit and humor made the case for actively disrupting the notion of the gender binary. Women's Studies was the only academic space at UNC in which I could have these kinds of conversations.
With a foundation in feminist analyses of gender, critically examining how race and class structure our world was made easier. My experiences in the predominately white program in middle school had already primed me to understand the kinds of privileges that came with my white skin and wealth. Feminist critiques of race and class from folks like bell hooks and Patricia Hill Collins challenged me to more closely examine how my skin color and class had lubricated my movement through life. I was called to ask questions about my life and American culture that I had never before considered.
It was with this understanding of identity that I eagerly founded the Unity Conference at UNC-Chapel Hill during my sophomore year. I wanted to put together a program that would explore where sexuality and gender identity intersected with other kinds of identities like race, class, ability, and age. I searched for speakers who could make those links evident – from the Black lesbian activist Mandy Carter to the wonderfully theatrical activist and performer Nomi Lamm. I also looked for inspiring political thinkers who could help inspire political action, like former National Gay and Lesbian Task Force director Urvashi Vaid, who keynoted the first conference.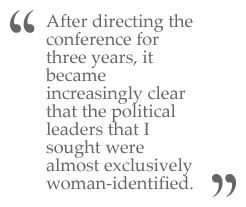 After directing the conference for three years, it became increasingly clear that the political leaders that I sought were almost exclusively woman-identified. During my junior year at UNC, I wrote an editorial for the campus queer magazine, LAMBDA, expressing my frustrations in finding queer male mentors. It was appropriately titled "Where the hell are all the feminist queer men?" While feminist women had certainly given me the tools to understand my own life as an effeminate queer man, I was finding few resources from other men who shared my experiences and politics.
At the same time, I found myself more and more disillusioned with the national LGBTQ movement that, it seemed, was less and less interested in radical change. I spent a summer in Boston working for one of those national organizations, hoping to find a movement that made room for all kinds of queer people. Instead, I found myself in big-shot meetings of Boston's major LGBTQ nonprofits that were focused on planning events that highlighted the experiences of those who were more "marketable," while desperately trying to keep the rest of us out of the photo album... (continue reading)