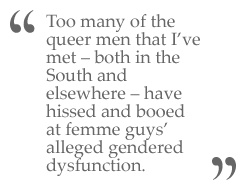 Sitting in those meetings, I couldn't help but to think that my more effeminate friends and I were likely to be some of the people they were working to make invisible. Hostility towards nelly faggots like me, in my experience, has come from both inside and outside queer communities. Gay men, in particular, seem to be guilty of this kind of gender policing. Too many of the queer men that I've met – both in the South and elsewhere – have hissed and booed at femme guys' alleged gendered dysfunction. They say that our stereotypically homo affect is some combination of awful things like superficiality or immaturity. "Why can't you just be normal, for God's sake?" They want us to keep our faggotry to ourselves, lest we give them all a bad name.
But I can't. And I won't. I spent far too much of my life trying to contain my faghood to satisfy others. If I am loud or eccentrically feminine today, it is because of the years of putting up with a patriarchal, heterosexist culture that constantly reminded me of my inferiority. Everywhere faggots like me look, we are reminded of just how pathetic or pathological we are: news reports, television shows, music videos, school books, romance novels, stand up comedians, product advertisements, televangelists, politicians, and scientific studies. From time to time, even the people who are allegedly fighting for us tell guys like me to butch it up. I have exactly two words for them: Fuck. You.
Guys like me create camp to survive. It was our protection from a world that took pleasure in ridiculing us; camp was our multipurpose second skin. It was, for me, a way to try to reclaim some of my eccentric spirit that my peers had crushed in middle school. It lets us make comedy out of tragedy and fools out of idols. It is our own way of making some sense out of a culture that only makes room for nelly boys when we design their houses or when we're needed for psychological studies.
I have come to realize that there are few winners in a world fraught with such manic gender policing. I'm not referring here just to women, who are obviously undervalued and often infantilized in American culture. Straight men, often pegged categorically as the winners under patriarchy, often suffer as well, under the constraints of hegemonic masculinity. While it is true that straight men collectively hold many of the cards, it is easy to forget that as individuals their struggles with gender can be deeply emotionally damaging. Gender, at least as it is currently understood, makes free expression nothing short of impossible – for all of us.
I anticipated – I had hoped – to find a more, shall we say, enlightened politics and community in my move to San Francisco. I was shocked and disappointed to find that queer communities in small towns in the South were often far more politically savvy and radical in their vision for change than many of the people I have met in California. Many of the men I met while living in San Francisco saw little impetus to fight for change, perhaps because they have never really faced the kind of day-to-day animosity that queers face in the South. My worry is now that, as homophobia goes the way of racism and sexism and becomes more nuanced, less blatant, and disproportionately damaging to those on the bottom, queer people will generally be less inclined towards radical politics that challenge the status quo.
It was truly a sad day when one of the incredibly few queer male feminist mentors and leaders I had found, Eric Rofes, unexpectedly died. He was one of a tiny number of gay male leaders, in my opinion, who spoke progressive values to action. His memorial service in San Francisco was a first for me. With the exception of a cousin I barely knew who died when I was very young, death has kept a distance from my life. Highlighting the stark difference between my own life and Eric's, Amber Hollibaugh closed the service by reading from his harrowing and eloquent account of the utter loss he experienced in the early years of the HIV/AIDS epidemic in his book, Reviving the Tribe. In a fitting tribute, Sylvester's disco anthem "You Make Me Feel (Mighty Real)" played louder and louder as she read until it was reverberating in the large room.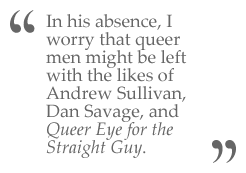 My anguish over Eric's passing was heightened by a sinking feeling that there would be no other queer man to fill his shoes. Despite the tensions that still exist between the kind of sexual liberation that gay men have spearheaded and the women-driven feminist movement, Eric had managed to straddle both. This was no small feat. In his absence, I worry that queer men might be left with the likes of Andrew Sullivan, Dan Savage, and Queer Eye for the Straight Guy.
I, for one, hope we can do better. The progressive queer male leaders and thinkers of tomorrow may very well be those of us who continue to live as outsiders in American life: men of color, sissies, sex workers, men with disabilities, transgender men, and those of us born in places where homophobia is still a constant, acute threat. For me, it was the experience of growing up nelly in the South that made ignoring the pervasive inequality in America difficult, if not impossible.
It is that outsider status that I cherish so dearly. It grants a certain ability to see what those on the inside cannot. "American by birth, Southern by the grace of God." Despite all of my trials and tribulations, I wouldn't have it any other way.