Together, we were fabulous. We were the kind of faggots who dropped Skittles into our Zima bottles. The little candy pieces would fizzle and change color as their outside shell dissolved into the drink. We fucking loved that shit. Sentences were preceded by "honey" or "sugar" and things we fancied were divided into three categories: "fierce," "fabulous," and "divine." It was a world of polyester built for our own escape, a refuge from the drudgery that was the "real world."

***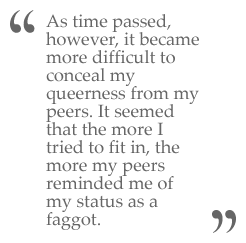 Keeping all that I was learning outside of school separate from the rest of my life was, at first, manageable. Well aware that my faggotry relegated me far outside the bounds of Southern propriety, I tried my best to lay low as much as possible while in school. As time passed, however, it became more difficult to conceal my queerness from my peers. It seemed that the more I tried to fit in, the more my peers reminded me of my status as a faggot.
After two traumatic years of middle school, it was clear that the IB program was not for me. I changed tracks to join my peers from elementary school in a high school a few miles away from my house. But middle school had changed me. It has stamped out the boy that my friends in elementary school knew. I stared at the ground when I walked the halls. My face was riddled with acne. I was the portrait of an angsty teenager. Even back in the suburbs, I was an outsider.
At the risk of sounding terribly cliché, I sought solace in the theatre. It was the only place in high school that managed to accommodate all of me. Drama class allowed me to piece together all the pieces of my self into one collective identity. Since middle school carved me up into pieces, I had felt like I was performing different versions of myself depending on who was watching. At home, I did my best to perform as straight and "normal" as the circumstances would allow. I would read from another script at school – that of a quiet, reserved boy who awkwardly meandered through the hallways while staring intently down at the floor. On the weekend, I would play what was perhaps the most accurate reflection of me, the rebellious gay teenager who liked to smoke, drink, and party late into the night. My training in theatre gave me license to experiment with consolidating all of these versions of myself into a new kind of self, someone less compromising for his audience.
Drama class also suddenly opened up a network of peers who didn't just tolerate my iconoclastic effeminacy, but celebrated it. I had never had friends my own age. Sure, I had folks to eat lunch with or perhaps go to the occasional concert. But it had been many years since I had had a meaningful friendship with anyone at school. Misfits themselves, my friends in the theatre allowed and, indeed, encouraged me to put to work all that my gay male friends had taught me in the ways of dramatics.
My newfound home in the theatre gave me the confidence to bring my nellyness out into the open. If I was going to be a faggot no matter what I did, I figured that I might as well "be all that I could be." And faggot, I was. In truth, a certain amount of respect came with wearing candied-apple-red vinyl pants and 4-inch platforms without so much as flinching. My outrageous wedge platform heels were, perhaps, a bit intimidating. I was fierce. One morning while I was leaning over the counter before school, my mother actually exclaimed "Look at those pants! You could bounce a quarter off that thing!" (I'm still not sure how I was supposed to react to that.) My father was less excited about my style choices, but I somehow managed to make it out the door to school without too much squawking.
My fagalicious wardrobe didn't necessarily stop kids from talking shit about me, but it certainly gave them pause to do it to my face ("if he's crazy enough to wear vinyl pants to high school, God only knows what he could be capable of"). I banked on the hope that my attitude would keep people out of my way. To my amazement, my strategy generally worked. The only time I can recall being verbally harassed to my face was when some boy quietly mumbled "That's right faggot, prance down the stairs" to me while I was heading downstairs to class. I actually thought it was kind of flattering.
I buttressed my social standing with an uncanny drive to succeed academically. At my uber-competitive high school of about 2500 students, academic prowess brought some merit. I studied far more in high school than I ever did in college, and it paid off. During my senior year, my Calculus II teacher pulled me aside and said, off-hand "I used to see you in the halls. You were so loud… I had no idea you were such a good student." What I think she really wanted to say was, "I had no idea faggots could be so smart."
Putting myself so blatantly on the edge of acceptability was, however, not exactly without cost. It may have protected me from most name-calling at school, but off-campus my attitude and fledgling self-assuredness did not negate my status as a faggot. Even when I tried my very best to tone it down, everyone knew. Being so damn nelly, in my experience, obviated telling anybody that I was queer. My closet came without a door. Grocery store clerks knew. Elderly couples walking past me in the mall knew. Hell, even telemarketers knew. And they didn't like one bit of it. Attitude or not, as a queer in the South I was destined to be a social pariah... (continue reading)