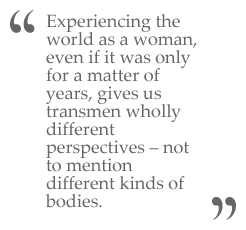 The other, and I think more sound school of thought seeks to respect the masculinities of all those who identify as men, male-assigned at birth or not, but also recognizes the vast differences in the way boys and girls are socialized from an early age. Experiencing the world as a woman, even if it was only for a matter of years, gives us transmen wholly different perspectives – not to mention different kinds of bodies. While non-trans men and transmen share secondary male characteristics, there are things that each of us knows that the other will not (and perhaps cannot) know. It's kind of like understanding the misery of menstrual cramps or knowing exactly how awful a kick in the balls feels, for example.
Because our bodies as transmen are different, the way we have sex is also very different from non-trans men. We may all have dicks of differing varieties, but some transmen's biological equipment can have limitations in terms of penetration and ejaculation. On the upside, we are much more likely to be multi-orgasmic than a non-trans man! And for those of us who bottom, we've got what some refer to as a "bonus hole" that has muscular contractions at different areas and not just the one sphincter muscle. Many of us also have smaller hands than non-trans men which allows for easier fingering and fisting.
But truly, besides all of the physical stuff, there's a kind of bond that I can achieve with my fellow transmen because of our shared experience. They just "get it" without ever having to explain myself. While I certainly know some really cool, respectful, and validating male-born men, our connection just isn't the same. I feel a comfort with transmen that I do not share with male-born men. Other transmen I know have, of course, completely different experiences. Some feel "more trans" when they're around other transmen and that makes them uncomfortable. They prefer male-born men because, with them, they feel "more male,"– more "real." Unlike these guys, though, I feel that way when I'm with other transmen. In the presence of a male-born man, I feel constantly aware of my physiological difference from him, making me feel inadequate and insecure.
The point is people see masculinity in different ways, but because I consider the trans-masculine experience unique and remove it, if only slightly, from the non-trans experience, I've been harassed by fellow transmen. I've even been told before that I was transphobic, that I was certainly not trans myself, and that I dangerously fetishize transmen because I prefer to date them over non-trans men. My preference for transmen has been the cause of tremendous offense on more than one occasion. I shouldn't have to really explain why I don't want to date non-trans men; I'm simply not sexually attracted to them when it comes down to it. I've tried. I just don't get hot.
I was told by this group that I can't be a transfag because, even though I pass full-time and live as a man, I don't identify as a male (FTM isn't male enough to this group of transsexuals.) Also because I don't date non-trans men, I'm not really gay. They graciously allowed me to retain the use of the label "trannyfag." Apparently, this term includes genderqueers and transmen who date transmen, so I already felt more comfortable affiliating with it.
More recently, a similar group of transmen treated me much the same. These guys aren't gay, but are of the same generation and hold the same belief of being born in the wrong body (a concept I completely respect, by the way. I never quite understood the level of anger that came my way when I really never put anything out there except my existence.)
This time, the argument wasn't about who I date, but how I present my body. I pass full-time as male, without question, but because I don't bind or want top surgery, another uproar ensued. Again, I was accused of not being trans. It didn't really occur to this group that I don't need to bind because I'm very small-chested. It didn't really matter, though, because these guys flew into fury before I could mention that part. In their world, one must get top surgery or plan to get top surgery to truly become a "real man." To them, a man simply does not have breasts.
However, no one asked me how I see my chest. No one cared to listen to me say that I don't consider my chest female at all, and that I've never met any problems with partners or strangers. The only people who've had problems with my chest were a handful of loud transmen who tried to make me feel ashamed for not binding because they were insecure with their own bodies and projected it to me.
What all of these people, groups and individuals, failed to consider was that my identity, my masculinity, my presentation, my transition, was all just that: MINE. I transitioned for no other reason than because I wanted to and have always wanted to. I wasn't really considering the social ramifications, which are of course, important, but the most important thing was my own personal mental health and emotional well-being. Perception by others is a big part of it, but secondary to self-image.
After the fact of passing, I was more able to concentrate on my slide through social structures. I observe my position as a white man (perceived as gay and straight in different arenas) carefully, and am fully aware of it in every space I enter.
I make conscious decisions about things like how much space I take up, how loud I speak and how often. Personally, I believe this is how I can be a responsible man, accountable for the privilege handed to me. I try often to turn it away, but many times, it's just there, and it is, to be honest, easy.
But I remember not having it.
And I won't forget.
The trans-masculine community will continue to have great divides as long as there are those who only accept trans people who transition (or don't) in exactly the same way as their own sub-culture does (or doesn't.) As any marginalized group, we all look for comfort, safety, and support, but the majority of my experiences with many transsexuals and genderqueers have been anything but comfortable, safe, or supportive – simply because I don't label myself as male and because I'm not desperately seeking top surgery. Regardless of all of my similarities, my differences (which I consider comparably minor) excludes and shuns me.