Of the many, probably about 100 members, of that listserv, I had only one supporter, which unfortunately didn't do much good. These guys don't want to diversify their thought. They still believe in only men and only women and there is exactly one way to be either. I finally had the opportunity to meet this individual, the listserv moderator, in person about a year after the entire ordeal. When he saw me, and saw how well I pass, how presentationally masculine I am, and heard my baritone voice, he apologized to me. I accepted, but only after the fact do I feel that it was because of my outward appearance. I have a feeling he feels the same way he did about my identity, but accepts me now as a transman because he knows I look like one. Or maybe he does get it, but that doesn't mean his group of followers do. There are many that remain who will not accept that a man doesn't have to be a male.
Okay, enough bitching!
When I was first coming out in 2000, I quickly accumulated a large network of FTM (female to male transgender) friends and became close with many of them. I thought that a whole new world of friends was opening up for me. Everything was suddenly simple, whereas before it had seemed so complex. We were boys, and that was all. Nothing complicated there. Finally, I had found a community that made sense. I could finally be happy and have friends and a community who truly understood me and my experiences.
But, like many identity-based communities, my newfound home came with its own set of rules and regulations. These constrictions mostly related to hair, clothes, posture, vocal inflection, and general behavior (particularly in relation to interaction with people whose genders match their assigned sexes.) I was suddenly expected to wear big baggy pants (preferably cargo) to hide my hips, big square polo shirts to give me a rectangular torso shape and hide my chest, cut my hair short but add just a bit of gel, stand slouched, shoulders curved to further hide my chest, hands in pockets, to emphasize the squared off posture, and drop the ends of sentences instead of doing what women and gay men do, raise them.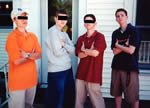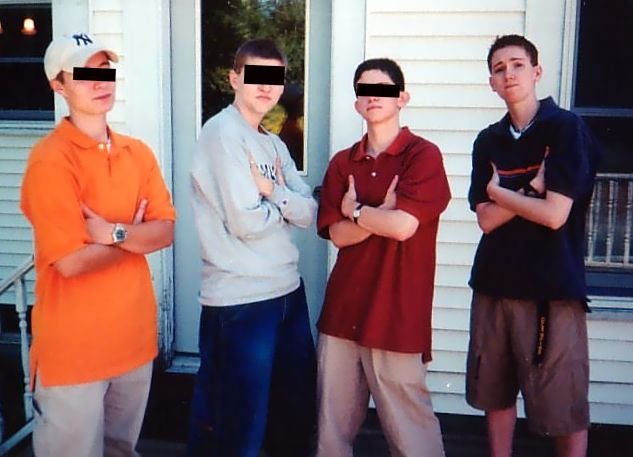 Cole and Friends

When I look at pictures and videos of me and my friends from that time, I'm shocked to discover that we were clones. Literally, we wore the same shirt in different colors and we all had the exact same hair cut. At the time, I found comfort in our similarity. I felt like it was okay to be this way because others were now like me (or, perhaps, I was like others,) and, certainly, I wanted to remain included.
All these things, – the clothes, the hair, and the voice, – helped me to start passing when before I even started taking "T." I wanted to pass as a man and I also wanted to take testosterone, but years later, when I was on "T," and I was able to pass, I became much more comfortable in my femme identity. I didn't worry about doing all those "masculine" things, -- like speaking in a monotone voice and standing, shoulders hunched, with my hands in my pockets, -- because nobody questioned my masculinity anymore. Rather than hurting my chances of passing, however, my newfound confidence in gender performance as a femme, along with the remarkable physical changes of the "T," allowed me to pass as male 100% of the time. The major difference now, though, was that when I dropped the macho routine, most people just thought I was a fag. Before, if my routine ever "slipped," I immediately stopped passing and people thought I was a dyke.
Initially, I did feel that I had to exaggerate some things to get my point across. However, after the most significant part of the physical transition was over, I was able to relax. Many transmen I know, though, never relax, and they never let themselves take a break from the macho routine. While it may come natural to some, I know that for others it is a conscious choice – a choice often made to survive. To many of these people, my decision to let go and embrace a femme identity is threatening. Unlike hyper-masculine transmen, I can survive as femme. But, because it is scary, it angers many of them. They become disgusted and are publicly rude to me.
I'm not exactly a raging queen or anything. I don't prance around tossing glitter out of a basket (I do, however, cry during "chick flicks" and dramatic musicals!) My version of femme is not that I'm feminine. I'm quite masculine, really. I'm just a different kind of man; a more sensitive, quieter, and better dressed kind of man than what is expected and accepted by this culture. But I'm very comfortable being out as trans and I don't hide the fact that I don't bind. This concept can get sticky, though. I am too out for the stealth transmen, but I'm not out enough for the genderqueers. My comfort level lies somewhere in between -- I like passing, but I also like remaining visibly queer. I would like to be read as a transman most of the time, but there are exceptions, like in bathrooms, gas stations, or on busses – or, for that matter, anytime when strangers are within earshot. In most places, after all, a visible transsexual is more likely to disgust someone than to get a nod of approval from them.
Also, it's not always appropriate to discuss body parts (which is the first thing many non-trans people think of when they hear the word "transsexual") in the general public. Saying very loudly "I'm a transsexual" in the wide open isn't exactly socially acceptable. It is also potentially dangerous. At the very least, it is asking for odd stares... (continue reading)