At the same time, if I were to exclaim this, my body would become immediately cross-examined. "Ah yeah! Small hands! There's the proof." Or "I can see your boobs today." (Both of these are comments that have actually been made to me, amongst other similar statements.) Where they didn't notice before, now there may be obvious "clues" and "giveaways" as if they were little Where's Waldos. While I don't mind it being known that I'm trans (in fact I prefer that,) it would certainly make me uncomfortable if someone were to, upon learning that I am female, stare at my chest, searching for breasts or looking at my pants for a bulge (which is actually there because I pack with a prosthetic.) The biggest confusion for many on-lookers is my developed Adam's apple. I have one, and this is, for many, my proof of male-ness.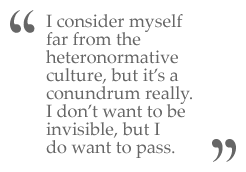 It's one thing to be checked out by an admirer and another thing to be ogled as a freak. Many people don't mind being stared at, the whole "subvert the dominant paradigm" thing. I consider myself far from the heteronormative culture, but it's a conundrum really. I don't want to be invisible, but I do want to pass. I guess that there's a line between visibility, on the one hand, and sticking out like a sore thumb, on the other. I just want to be treated with respect and dignity – I want to be treated like a human; an adult not a child; responsible not immature; a person not a sinner. The "sore-thumb-sticker-outters" are often blatantly discriminated against and harassed. While I admire their bravery, I don't have the energy for dealing with constant harassment -- especially when I get so much of it from my fellow transmen. This doesn't make me weak, as some quite visibly queer folks I've encountered have scoffed.
It's not just transmen, however, that have been hostile to my identity. Even some people I've met in the radical punk community have reacted negatively to my medical transition and inevitable "passability." Interestingly, I often get the same response from lesbians -- butches in particular. Some have accused me of selling out for white male privilege because, I pass 100% of the time and I'm no longer harassed for sticking out. I don't look "different" anymore. Some people think that it takes "sticking out" to be a trans activist. Personally, I think I'm pretty damned radical – whether or not I pass. I've lived two genders, and one in between, and I talk about it freely and honestly. That's pretty radical, if you ask me.
Curiously, my father and male friends (both gay and straight) have been similarly opposed to transition – but for the completely opposite reason. Instead of accusing me of trying to fly under the radar by passing, they believed that I was transitioning because I was seeking out attention. I thought that this was utterly ridiculous; I wasn't sporting gauged body jewelry or a 3-foot pink mohawk. There really wasn't anything visually spectacular about me – well, except for my rakish good looks, of course! Besides that, however, I looked pretty "normal." I looked like a regular boy. Contrary to what my father believed, I was someone who, rather suddenly, didn't draw much attention to himself at all.
As if my world wasn't small and lonely enough, some of the worst reactions have come not from the trans-masculine community at large, but from amidst the growing sub-culture of gay transmen. I boldly took on the self-identity of transfag for a brief time before I was told I was co-opting gay transmen space because I don't also identify as a male. I identify as FTM, but apparently this did not appease them. FTM, to many, means the transition from female to male, starting in one place and ending at another. It is not intended as a place to stay, but is only the transition, the midway. The idea here is that the point of being FTM is to become a male, eventually.
For me, that is not my goal. I don't want to be a male, and I know I could never be one anyway, because who I am is a transman, completely. I have the body of a trans person, the mind of a trans person, the experience of a trans person, the sexual interaction of a trans person, and all things trans, not male. I was completely excluded from the space after brutal verbal abuse from the moderator of a gay trans group and many of the members. Much of the controversy surrounded the fact that I am exclusive to dating transmen, and I don't date non-trans men. This group of transmen found this offensive because they believe to be considered different than non-trans men emasculating and devaluing. What they don't understand is that I highly value and prefer the masculinity of transmen, mainly because it is chosen and continues to be chosen at each injection day (and every day in between.) We are men because we consciously want to be all the time (or most of the time or some of the time.) But what it comes down to is this question: are all men the same, or are transmen different? People disagree.
There are differing schools of thought on being trans. To me, these opposing schools are as different from each other as creationism is to Darwinism. Some have argued that being a transman is exactly like being a male-born man in every way, except for the surgery. The idea is that we have always been males born into the "wrong" bodies, and after a few snips here and there, we're back to "normal." This kind of thinking would have you believe that transmen have the minds of men, the thoughts, feelings, desires, emotions, and therefore the experiences of men. Folks who believe this, think that there is no difference between male-born men and transmen; we are equal in every way: psychologically, sexually, emotionally, socially, and physiologically... (continue reading)