Soon, with some guidance from friends and professors, I discovered the works of Lily Burana, Carol Queen, Annie Sprinkle, and Carol Leigh (aka Scarlot Harlot). Here were women who defied social norms and didn't view sex or sex work as degrading but, rather, empowering. They argued that not only is sex work worthwhile, but more importantly also legitimate, fun, and sacred. I learned from them that sex work is not a continuation of patriarchal exploitation, but instead, a potentially subversive act that, in fact, undermines patriarchy and pervasive sex negative attitudes. These might have been strong women speaking on behalf of other women, but they were suddenly my new heroes.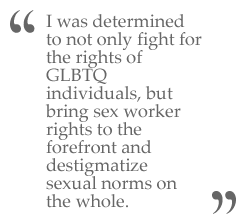 Encouraged and motivated by my fellow travelers, I entered the world of queer activism. I was determined to not only fight for the rights of GLBTQ individuals, but bring sex worker rights to the forefront and destigmatize sexual norms on the whole. But, to my surprise, many so-called progressive communities seemed far more aligned with conservatives on these subjects. Feminist and queer organizations alike felt that fighting for sex worker rights would hurt their movements' credibility. Even the organizations that I worked with that focused specifically on sexual health or GLBTQ rights never considered sex worker rights a top priority.
In 2006, however, after years of advocating and fighting losing battles with employers, I finally saw a glimmer of hope. I attended the National Gay and Lesbian Task Force's Creating Change Conference in my hometown of Kansas City. I was excited to attend the conference particularly because of the "Sexual Freedom Track" the Task Force had carved out within the conference's program. Here were a series of workshops specifically designed to promote the rights of queer people who haven't received the same recognition within the movement.
At one workshop early on in the conference, the issue of sex worker rights came up and I saw my fellow sex workers vocalizing their indignation at the treatment they received by the mainstream GLBTQ rights movement. In a moment of exhilaration, I stood up and added my voice to the outcries, describing my own history with the sex industry and my displeasure with having been silenced by the GLBTQ community when I spoke out in defense of my right to strip and in defense of sex worker rights on the whole. It was the first time that I had "come out" as an ex-dancer and I remember trembling as I described my experience, fearing the inevitable persecution soon to come as a result of my disclosure.
The amount of support my fellow sex workers and I received was overwhelming, and everyone in that room seemed genuinely concerned over the current state of sex worker rights. I felt that I was witnessing a change within the GLBTQ rights movement – as if the issue at hand finally had a face and a voice. I imagined a great shift to be taking place, as if the 2,000 people attending the conference were now unified behind the sex worker rights movement and we would see it listed as a priority by the movement's frontrunners.
As I left the conference room for the evening, however, I walked by two participants I had seen periodically throughout the day. As I passed them, I overheard one of them say, "I understand where they're coming from, but I wish the prostitutes wouldn't force their ideals upon us." Immediately my dreams of grandeur were shattered.
My experience at that conference and the lack of action taken in its aftermath has left me wondering why – after living through the ongoing feminist and gay rights movements and the alleged sexual revolution – sex and sex work continue to be among the most taboo subjects in the 21st century? Worldwide, GLBTQ communities have embraced each other's differences and celebrated our supposed sexual freedom that evades many of our heterosexual brothers and sisters. But the apprehensions I have witnessed when bringing sex to the forefront might bring us to ask ourselves: Is the queer community really as sexually accepting as we like to think it is?
Over the last decade, we have witnessed the rise of the Marriage Equality movement. And while success is being made – however slowly – on that front, our focus on partner rights seems to have frightened us back into our sexual closets. It is almost as if HIV/AIDS made us so fearful to fight for sexual freedom that we have looked for other, more "appropriate" battles to win. AIDS not only affected our health, but single-handedly erased the entire sexual revolution from our collective consciousness. And although many have worked tirelessly to convince the general public that we are no longer concerned with the "sexual" aspect of our "sexual identity," the truth is that, by forsaking it, we are lying to ourselves and actually risk losing the right to express our sexuality openly and feely. And I, for one, am not willing to reenter any one of my many sexual closets.
Four years ago, I began a journey that has led me down a path I could have never imagined. A few months dancing nude on a stage has resulted in more judgment and vilification than I ever could have imagined. And while I continue to support the movement that has seen so many advances in recent decades, I find myself more and more disheartened with the battles GLBTQ activists choose to fight; while finding it slightly ironic that a movement supposedly based on sexual freedom has chosen to shy away from sexuality only four decades after the movement's beginning. Our political activist organizations would be better served to remember the fact that when the riots at Stonewall occurred, GLBTQ individuals were being locked up for the same reasons that sex workers are today.