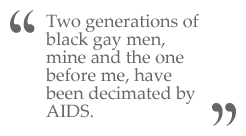 I give this rough and ready sampling to demonstrate that there were things—some good, some bad, some indifferent—happening at the end of the long century and the beginning of the new millennium. Black folk, we were as always, in our given cultural, national state of being, in the field of vision, as it were, still operating in the visual poles of endangerment and entertainment. What is of interest to me is that in this quick summary, we see, particularly in the late 80s and early 90s, a visual cultural presence of black gay men that arguably does not exist anymore. Part of the reason for this, as I mentioned earlier, is that two generations of black gay men, mine and the one before me, have been decimated by AIDS. Another reason may be that in the political climate of the gay and lesbian movement, with its heterosexualization of homosexuality in domesticity, domestic partnership, the language and imagery of marriage, family and equality—black gay men cannot be representative. By this I mean that when we think of the visual rhetoric of things like gay marriage, gay families and partnerships, the legacies of the endangered black man, the always already dysfunctional black family, these things disallow the articulation of gay black men, coupled or not, as the gay and lesbian neo-liberal norm.
Another reason for this decrease in visual presence may have to do with black men's entrée into the men's movement in the 90s, most representative in the Million Man March. Both the political and visual rhetoric of the march were straight (though arguably not intentionally or exclusively straight), but inevitably in the religiosity and spirituality of the Million Man March, men's movements, etc., again, the black gay male as image is disallowed, unable to signify within the political agenda of "unity, atonement and brotherhood." And the religiosity of black folk, perhaps in response to the AIDS crisis, perhaps in the recuperation of black masculinity as family responsibility, has no place for black gay men like me. It is in this miasma of presence, absence, and permission that the communitarian, cultural production of the "in the life" identity is lost and the down low rises.
In August of 2003, I sat in my kitchen reading my email, sifting through any number of forwarded emails containing this exposé. I did not read the article for a number of days. I was familiar with the "down low," with being on the down low, this identity of discretion, privacy, and secrecy, as is often self-described. I remember it first came to my attention with internet and chat rooms in the mid-90s. I would find myself in chat rooms, speaking to black men talking about being on the down low, and when I would ask, "What is 'on the down low,'" rightfully so the response would be, "If you don't know, then you're not on the down low." I, therefore, had no involvement with it, which is not to say that I have no involvement with black men who did not identify as gay or that I was always willing to be a black man that identified as gay. However, I had no interest in reading this article because I had been out since I was twenty, and very simply, at forty, I really did not have the time or energy to deal with it.
But then my mother asked me about it. And she asked me about it because she read it as being about gay men (and also because the article begins with the discussion of men on the "down low" living in Cleveland, and I had just moved to Ohio). So I read it. And I followed it on the news. I watched J.L. King, the author of the bestselling exposé On the down low: A journey into the lives of "straight" black men who sleep with men, watched him on Oprah and CNN and became increasingly infuriated by the willful participation, willful life and living of these black men in the discursive (and at this point typical, if not traditional) space of the pathological. Gone was the passionate, political, progressive poetry of black gay men and the black gay renaissance; instead we have the language of ethnography in an article like "Double lives on the down low" or the contradictory, often times confusing, faux jeremiad, faux journey of self discovery, return and redemption found in J. L. King, saying things like:
DL men cannot and will not be associated with anything that would raise questions about his [sic] sexuality. They will not say they are gay, because those three little letters evoke so much fear. Those three letters have them afraid of being ostracized by their community, by their church, by their family. If they tell the truth and say they're gay or bisexual, they will be called a 'fag.' That's the worst word you can call a black man. When a man is called a fag, it hurts. It basically strips away his manhood (21-22).
King is disingenuous at best. What is basically received from this description is an identity of denial, admittedly, but also one of victimicity, deliberate victimicity, and intractable pathology. Furthermore, King's DL is positioned quite violently in opposition to other men, other black men who may reveal them or, worse yet, who may identify themselves as gay or queer or same gender loving or bisexual or simply sexual freewheeling without the internalized burdens of race, without the pathology of blackness and with the courage, fortitude and integrity of self awareness and self definition and political intention. And herein lies the problem: the opposition laid out between black gay men and men on the DL is one that has to be violently maintained because it is a question of manhood, of black manhood, of masculinity and the maintenance of that masculinity... (continue reading)