The video projects an image of me nude from the shoulders up slowly spinning as thin red threads bind my face and neck. The video begins with a few threads on my face and over approximately six minutes they form large ribbon-like bands over my eyes, mouth and neck, at this point the footage reverses and begins to unbind me; It is meant to be seen as non-linear and perpetual. I chose to edit the clips with very slow cross-fades in order to maintain the meditative feel of the work and reduce the loop from two hours to twelve minutes.
To me gender is learned and not innate. The video references gender as a performance by depicting the nature of the constraints of normative gender with the slow building of the thread over time to completely deform and constrict my face and neck. The looping shows how one can never truly escape these constraints: first they appear invisible or inconsequential, but over time they will build up until they completely conceal a person.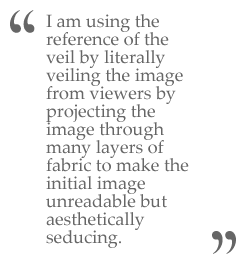 While there are several potential reads for the function of the fabric structure; I am most interested in it as a veil and in reference to theatricality. The veil is currently a highly debated and controversial topic with reference to the Islamic tradition of veiling women. To me the veil is an overt symbol of oppression, a garment that binds and obscures. I hope to tap into this debate and the possible reads of the veil. I am using the reference of the veil by literally veiling the image from viewers by projecting the image through many layers of fabric to make the initial image unreadable but aesthetically seducing. I then invite the viewers to come inside the satin veil. Once inside they are then confronted by a crisp and disturbing image of a person being bound by thread. The harshness of the image is contrasted by the ethereal nature of the large softer image being projected onto the chiffon lining. This duality is important as it articulates the duality of what is perceived with gender and what is experienced.
The reference of the theater, with the fabric alluding to a curtain, parallels the concealing of the veil but speaks directly to the idea of gender as a performance. This is also integral to the work because the clear image is eventually revealed. In this way the connotations of the veil and the theater, in reference to gender as performance, combine to make the potential interpretation of the work more accurate to my intention.
A Foundation for Artistic Practice: Discussion of Influences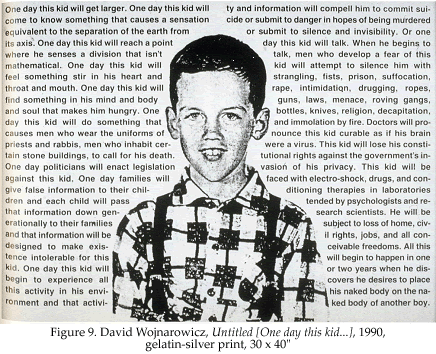 My discovery of David Wojnarowicz was the result of two important moments in my life: coming out as queer, and making the decision to pursue being an artist. I immediately became enthralled by his work and pored over it for months. His writings are coarsely honest and his imagery complex and loaded with meaning. The works that combined his writing and images became of particular interest to me. For example "Untitled [One day this kid…]" is full of rage and hope. The story is moving and the image of the innocent looking boy (a photograph of David Wojnarowicz as a boy) surrounded by the text work together to produce a powerful account of his life in a manner that reaches beyond mere autobiography. Above all I value and carry with me his unapologetically personal approach to art making. As Dan Cameron states:
He was a genuine idealist in the sense that he spoke up loudly for causes that he believed in and never hesitated to make his art a vehicle for his political convictions. But he was also a visionary artist in the sense that his works were often triggered by private experiences or dreams, and he was especially fond of creating links between ecstatic experience and polemical confrontation (Cameron, 3).
Wojnarowicz seemed to give me permission to speak loudly and never hesitate. I began to create art that explicitly dealt with my personal experiences, often in an overtly political way. Working this way was an extremely important step for my work. I still work from personal experiences but have begun to move away from being as aggressively political and as overtly autobiographical.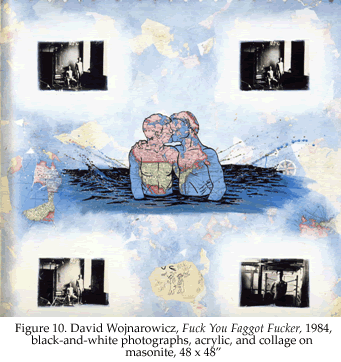 The way I approach materials and object making mirrors that of Wojnarowicz. I do not focus exclusively on aesthetics or issues and I use a variety of media as a way to bring new layers of meaning and context to my work (Cameron, 4). However, visually my work is very different from Wojnarowicz's. This is especially true in my more recent work where I have sought to have a very simple and elegant aesthetic as opposed to Wojnarowicz's complexly charged and emotionally raw style.
Adrian Piper's essay "The Joy of Marginality" speaks eloquently about passing as mainstream, yet being marginal to it, and the perspective this relationship provides (Piper, 236). I also attempt to utilize this privileged perspective in my work to comment on the mainstream thought process. Although the source of my marginality is due to being queer and not my ethnic identity, my awareness and response corresponds with Piper's.
I become aware of my racial identity when someone brings it to my attention. This happens, for example, whenever someone makes a racist, sexist, homophobic, or ethnic slur of any kind. That brand of irrational hostility, no matter where it is explicitly directed, reminds me of my vulnerability as a black person (Piper, 233).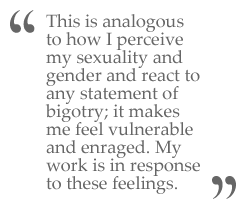 This is analogous to how I perceive my sexuality and gender and react to any statement of bigotry; it makes me feel vulnerable and enraged. My work is in response to these feelings, as is Piper's. This perspective affects my work directly; I use this perspective to channel my experiences in productive ways and to take back power in order to not be confined (Piper, 234).
Beyond Piper's writings, her interventionist performance based work and how it functions is of great importance. In "The Mythic Being" she created an alter-ego (a young black male) and walked around public places asserting this false identity, reflecting the root of the discrimination she feels as a black female. This speaks not only about racial discrimination, but can be read as showing gender as performance. It is also of interest to my working method in that she photographs these performances as documentation of the event and then through an additive process uses that documentation to make an art object. Much of my work is based in performance, and the photographs of the event are altered. These alterations, such as the adding of thread to "Sewing the Façade," turn the documentation into autonomous art object... (continue reading)