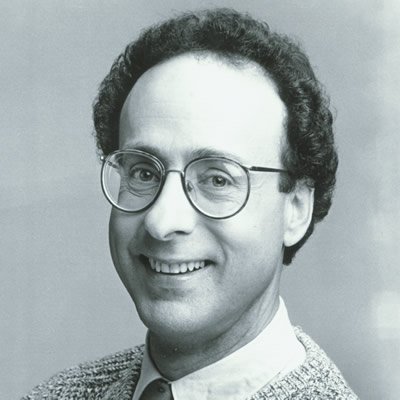 Warren J. Blumenfeld
By Warren J. Blumenfeld
Warren J. Blumenfeld, Ed.D., is Assistant Professor in the Department of Curriculum and Instruction at Iowa State University in Ames, Iowa specializing in Multicultural and International Curriculum Studies, as well as LGBTQ Studies. He has edited and authored a number of publications, including "Homophobia: How We All Pay the Price"; "AIDS and Your Religious Community"; as well as the report, "Making Colleges and Universities Safe for Gay and Lesbian Students: Report and Recommendations of the Massachusetts Governors Commission on Gay and Lesbian Youth." He also co-produced a documentary on homophobia titled Pink Triangles.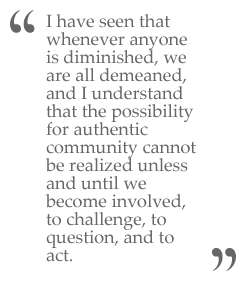 It grieves me terribly when I see gay and lesbian organizations themselves restrict inclusion of bisexual and transgender people from our agendas, our communities, and our movement. That's when we also must speak out, because it is our issue. When anyone is targeted for hate-motivated harassment or violence based on their skin color, socioeconomic class, sex, gender expression, sexuality, physical appearance, ability or disability, ethnicity, this is our issue too. In the end, I have seen that whenever anyone is diminished, we are all demeaned, and I understand that the possibility for authentic community cannot be realized unless and until we become involved, to challenge, to question, and to act. Estelle has been an activist throughout her life to make the world a better and safer place for me and for others. She has acted with courage, compassion, and integrity.
So, if indeed it is true that, as the old saying goes, the fish is the last to see or even feel the water because it is so pervasive, then from our vantage point at the margins, queer people have a special opportunity – indeed, a responsibility – to serve as social commentators, as critics. Our experience as outsiders gives us tools to expose and highlight the rigidity of gender roles and the oppressive attitudes and behaviors that dampen and saturate our environment – and, most importantly, to challenge the culture to move forever forward and to grow. I hope we can join together and go out into our lives and work for Tikkun Olam. Let us transform the world.