In the California culture that I'm familiar with, I am conscious of the power of the person who is the so-called "object of the gaze." Roaming the hallways, it is I who feels like an object around Mr. Dorm Hunk, who regularly leaves his door open at all hours and is often typing or reading or lazily pawing at his bare torso. In my head, I'm thinking, "This guy doesn't need any more ego boosting. The last thing I want is for him to run off to his jock buddies and brag that he's got faggots ogling his body." Whether Mr. Dorm Hunk would really run back to his friends and giddily share such gossip, I'm not sure. It might be that my burning good looks would radically threaten that shirtless male's psyche, causing an identity crisis and making him feel powerless before my gaze. But that doesn't that sound very convincing. I just don't want to feed the fire that makes this person very obviously an avid exhibitionist.
Why can't I just enjoy it? I should be able to look, to savor with my eyes the sight that excites me because I am a man and—after all—men like to watch, right? I am aware that men make up this enormous audience with an insatiable appetite for pornography and visual pleasures. Not only is porn primarily consumed by men, but it is also primarily made for men. Even Playgirl, whose readership should ostensibly be female, has a fifty-percent male readership according to Mark Graff, president of Trans Digital. There's just a serious male bias when it comes to the voyeurism industry. And yet, I can't just sit back and enjoy it for at least two reasons: 1) whose body is on display & when is always conflictual and 2) my eyes don't have sex all by themselves
The intrusion of bodies
Let's just say, for the sake of argument, that Mr. Dorm Hunk was to send out pictures of himself to the dorm email list. I don't know that I would enjoy looking at them terribly much, at least based on my history. In the past, when people have sent me pictures of the newest Dieux du Stade calendar or forwarded me a sexy picture of a man, I've been conflicted. I'm aroused. I'm jealous. I'm curious, but I'm distracted from whatever else I was doing. Suddenly, my gaze is arrested by images I'm not sure I ever had much desire to see.
That's a part of sexuality that comes up too rarely in theory and in day-to-day talk. Even if I "desire" someone (as if complex feelings of sexuality can be summarized in the verb "desire"), I might not necessarily want to desire them. The Science of Sleep does a great job of setting up this tension. Stéphane, Gael Garcia-Bernal's character, wants to love his artistic neighbor, but spends a good deal of the time being enamored with her best friend instead. He discovers that there can be a gap between his partner of choice and the person who has his attention at a particular moment. I can sympathize with that, as I've often wanted to love the people who don't get any. Should I, then, indulge in all my wayward attractions, follow my gaze where it leads me the way that men are "supposed" to do?
I think not. Being that unreflective and lacking in self-doubt makes for very poor social harmony, at the least. Desire has a way of being borne from—and perpetuating—jealousy, inequality, and other social ills. But there's this lingering suspicion in my mind that I'm somehow following a road to Puritanism. I grew up in a Muslim household, more or less, where we prayed on Friday, fasted during Ramadan, and even went to Islamic camp during one particularly surreal summer between sixth and seventh grade. I was totally into the sex-is-unclean mindset until I went the way of secular gay-dom around the end of high school. Some Qur'anic remnant, some residual scripture poorly interpreted might have stayed with me, however, and I find myself mistrusting my desires at times. I want to ignore or even cover up the attractive bodies of strangers, and in a way I find myself identifying with my cousins who wear the hijab (headscarf) for their own complex reasons.
But even beyond the remnants of religiosity, there's this intrusiveness of the sexual object that still perplexes me. That is, the gaze can be forcibly drawn—away from this essay I'm writing, for example, and onto your desktop background of Brazilian supermodel Rafael Verga—in a way that's unwelcome. For someone married to a jealous spouse, this can be an obvious problem. But even for single people, the imperative not to be drawn like a fly to light whenever a cute stranger walks by might exist if they have other goals than simply enjoying eye candy.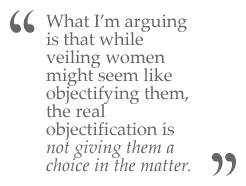 I'm not saying that closing one's eyes or covering up attractive bodies is an ethical, or even an effective, strategy. Lord knows that the objects meant to conceal often acquire a spectral sexuality of their own—like lingerie or masks. What I'm arguing is that while veiling women might seem like objectifying them, the real objectification is not giving them a choice in the matter. When society (read: men) insist that women dress modestly, I think they are trying to transcend their own particular feelings of objectification as well.
Maybe sometimes I'd rather Mr. Dorm Hunk threw on a sweatshirt instead of laying around half-naked all the time. I'm torn, however, because he is enticing, after all. But I don't want to be enticed by him—not just because it's distracting and intrusive. It also has something to do with the fact that Mr. Dorm Hunk is generally a white, muscular man. Skin color and race have become less of a factor of attraction for me, but I remember wondering some years back why I was so consistently attracted to white guys. I thought that, maybe if I just tried looking at the other brownish-beige folks all around, I'd discover that I like them, too. But this didn't work when I was in the closet trying to like girls, and it only barely worked to spur my interest in non-white men... (continue reading)